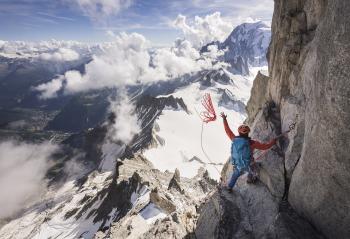 GF Saratoga ADK Mtn Club Chapter hosts "Banff Mountain Film Festival"
Mon. Feb 19 - 7 pm (Presidents Day)
SUNY Adirondack Theater, Humanities Building Bay Road, Queensbury
Tickets are $15 in advance or $20 at the door. All are general admission and non-refundable
The show is in the Theater of the Humanities Bldg on the SUNY Adirondack campus. This is the bldg on the NW corner of the campus. If you come up Bay Rd from Quaker Rd, pass the light at the main entrance and come in the North entrance off Bay Rd.

The Humanities building will be on your right as you look south at the campus. It is between the Science Bldg, that is being constructed, and Bay Rd. Look for red balloons and signs to get you to the entrance.
For Film Details
visit Film
Website
,
Facebook
or
Youtube Video Trailer
Films are rated PG (May contain course language or nudity)
Please support and thank our local sponsors that have helped make this local showing possible!
Fountain Square outfitters, Rocksport, SUNY Adirondack Outings Club, Meyer and Fuller law office, Cool Insuring, Queensbury Hotel, and Advantage Press