Education Sponsered by Our Chapter
Our Glens Falls-Saratoga ADK chapter is seeking candidates to sponsor for week long summer camperships at DECís Camp Colby and Pack Forest, and ADKís five day High School Teen Trails maintenance projects. These programs heighten awareness and appreciation of nature and environmental concerns, via educational and/or recreational activities. For those selected, attendance fees ($350 DEC and $250 ADK) are paid by our chapter.
Application forms for all of these sponsorships may be downloaded using the "Application Forms" links from this web page and when completed, send to:
Linda Ranado:
18 Pine Ridge Road, Hadley, NY 12835
Phone: 696-7265,
Email:
education@adk-gfs.org
---
Pack Forest,
Pack Forest, just north of Warrensburg, offers camp sessions for both teens 14 to 17 years old and youth ages 11 to 13. Sessions offer the older campers a chance to explore forestry, aquatic biology, wildlife management, field ecology and other environmental issues. Workshop attendees learn about professional forestry techniques, such as the use of Biltmore sticks and increment borers. The program emphasizes group dynamics and teamwork as essential to the environmental decision-making process. Staff encourages interaction, communication and cooperation as campers seek solutions to group challenge activities. Students also discover their individual strengths and abilities. Pack Forest campers participate in exhilarating out-of-camp canoeing or backpacking trips in the beautiful Adirondacks. Optional activities during the week include fly fishing, hiking, swimming, shooting sports and orienteering.
Camper Nicholas Wright thanked us for giving him
"this amazing experience to learn more about the wilderness Ö we went fishing, we did archery, and even got to see a wild black bear. Overall it was amazing."


Camp Colby
The Lake Colby Environmental Education Camp, for youth ages 11 to 13, is located just outside the Village of Saranac Lake. Campers participate in a discovery group while at Camp Colby, completing six lessons ranging from group dynamics to field, forest, and pond explorations, to a study of human impact. Group members learn science, solve challenges, play games, keep a journal, catch salamanders, net butterflies and discover the interconnectedness of life on earth. College-educated counselor staff guides all activities, encouraging participation and respect among group members while interpreting the natural world for campers. Experiences include fishing, canoeing, archery, exploring a bog and overnight camping trips.
Sponsored camper Gen Coutant wrote ADK,
"I went to Camp Colby this summer and I loved it! I just wanted to tell you to try it because I had so much fun. We had an overnight trip. Another night we got to sleep in tents and we played a really fun game in the dark. We also swam a lot and had a really fun night called world dance. We had an awesome night hike and the counselors showed us some cool stuff. I learned tons of new games to teach my friends back home. All the counselors were really nice and fun and one of them even looked like Thor! Plus the cabins and beds were really nice, which sounds like an odd thing to say, but I have been to camps with really bad cabins. Also, surprisingly the bathrooms and showers were not that bad. There was a thing called the polar bear were you jumped in the water three times bright and early in the morning, it was soooo fun. Furthermore the food was great too, and I am an extremely picky eater but could always find something to eat. Overall this camp was the best one I have gone to and I hope to go back again and see you there. Thanks Glens Falls Saratoga Chapter of ADK for sponsoring me!"


ADK's Teen Trail five day projects
ADKís Teen Trail five day projects are geared towards high school students (aged 14 to 17). This program, which relies upon teamwork and shared responsibility, focuses on trail maintenance. Participants learn skills as how to properly install water devices such as water bars, how to harvest a tree using tools such as a crosscut saw and axe, or how to use boulders with a steel bar. Through the course of a trail project, which can be physically challenging, campers share in a fun and rewarding experience while forming new friendships and memories. Ultimately a quality trail project is completed by trail crews that will protect the natural resource for many years. ADK provides campers with food, group camping gear, tools and experienced leadership.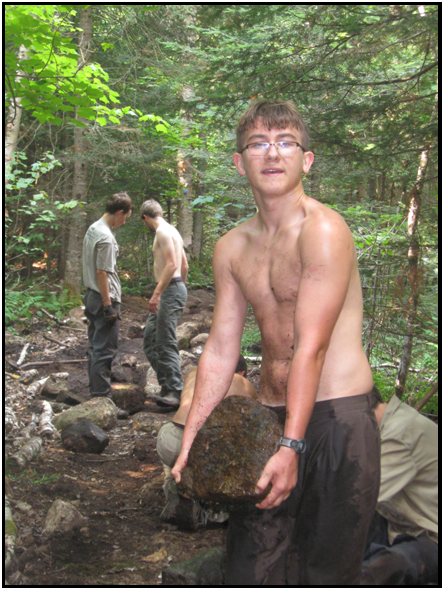 Campership recipient Andrew Williams (seen in the photo) said,
"We put in stepping stones and scree rocks along the lower section of the trail. My main job for the week was finding and carrying the stones to the trail. The previous trail crews had removed most the rocks nearby for their sections of trail so we had to find new places to quarry stones from. The best place we found for rocks was on the other side of a small hill where there was a stream that had plenty of rocks to get from it, it was a little far away but we managed, and had fun building the trail. I always appreciated trail work done in the Adirondacks like bog bridges and stepping stones, now that Iíve done some trail work I appreciate it even more, because of the amount of effort I know goes in to making it. One of my favorite parts of the trip was how I had kids my age to talk to about actual hiking with, because at my school no one else seems to like hiking very much, and I finally found some kids that did. On the trip I also had fun doing activities after work was done that day with the other kids I met, most days after work we went swimming and cliff jumping just downstream of the suspension bridge. On the final evening we even got to go hike Big Slide, for one kid, Casey, it was his first high peak. Thank you for sponsoring me; I had a truly great time."