Education Sponsered by Our Chapter
Our Glens Falls-Saratoga ADK chapter is looking for candidates to sponsor for week-long camperships in the summer of 2016 at DEC's Camp Colby and Pack Forest, and as part of ADK's five day high school Teen Trails maintenance projects. These programs offer those being sponsored the opportunity to heighten their awareness and appreciation of nature and environmental concerns, while participating in educational and/or recreational activities, dependent upon the program. For those selected, attendance fees ($350 DEC and $250 ADK) will be paid by our chapter.
Application forms for all of these sponsorships may be downloaded using the "Application Forms" links from this web page and when completed, send to:
Linda Ranado:
18 Pine Ridge Road, Hadley, NY 12835
Phone: 696-7265,
Email:
education@adk-gfs.org
---
Camp Colby
The Lake Colby Environmental Education Camp, for youth aged 11 to 13, is located on the western shore of Lake Colby, just outside the Village of Saranac Lake. The DEC website promises a week filled with fun and adventure, noting that "campers participate in a discovery group while at camp, completing six lessons ranging from group dynamics to field, forest, and pond explorations, to a study of human impact. Group members learn science, solve challenges, play games, keep a journal, catch salamanders, net butterflies and discover the interconnectedness of life on earth. College-educated counselor staff guide all activities, encouraging participation and respect, while interpreting the natural world for the campers. Additionally, campers choose from a variety of optional activities throughout the week that introduce them to outdoor pursuits and pastimes. Experiences include fishing, canoeing, archery, exploring a bog, and overnight camping."
Pack Forest,
Pack Forest, just north of Warrensburg, offers camp sessions for both teens, from 14 to 17 years old, and youth, aged 11 to 13. "Sessions offer the older campers a chance to explore forestry, aquatic biology, wildlife management, field ecology, and other environmental issues. Workshop attendees learn about professional forestry techniques, such as the use of Biltmore sticks and increment borers. The program emphasizes group dynamics and teamwork as essential to the environmental decision-making process. Staff encourages interaction, communication, and cooperation as campers seek solutions to group challenge activities. Students also discover their individual strengths and abilities. In addition to advanced outdoor workshops, Pack Forest campers participate in exhilarating, out-of-camp canoeing or backpacking trips in the beautiful Adirondacks. Optional activities during the week include fly fishing, hiking, swimming, shooting sports, and orienteering." Youths, ages 11 to 13, can share in activities that mirror those at Camp Colby.
ADK's Teen Trail five day projects
ADK's Teen Trail five-day projects are geared towards high school students (aged 14 to 17). This program, which relies on the key elements of teamwork and shared responsibility, focuses on educating participants on the ways and means of trail maintenance. Participants may learn such skills as how to properly install water devices such as water bars, how to harvest a tree using tools such as a crosscut saw and axe, or how to use boulders with a steel bar. Through the course of a trail project, which can be physically challenging, campers share in a fun and rewarding experience while forming new friendships and memories. Ultimately a quality trail project is completed by trail crews and it will protect the natural resource for many years. ADK provides campers with food, group camping gear, tools, and experienced leadership. Specific sites for the summer 2016 program will be posted on our site as soon as available.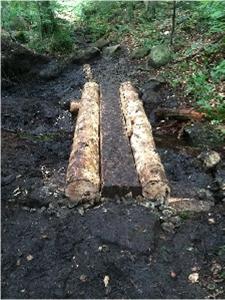 Campership recipient Walker Caffry-Randall had this to say about his experience and provided us with a photo as proof ... "I had a lot fun this year and I enjoyed learning about making wooden bridges. It was especially cool because we felled the tree on site. I feel like my skills have really increased now that I have had a project with stone and a project with logs. I have had so much fun I hope to be on a crew every summer. When I am old enough, I hope to work for the Adirondack Mountain Club. I'd love to be a teen trail crew leader."