Spruce Mountain Fire Tower
(Posted: 2015-12-17)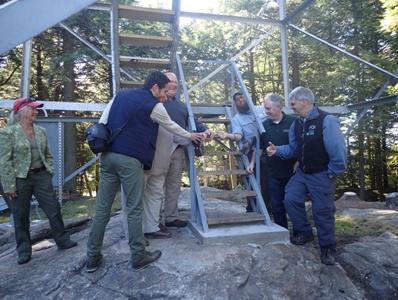 SPRUCE MOUNTAIN FIRE TOWER On October 7, 2015, the NYS Department of Environmental Conservation (DEC) held a celebration for a long awaited opening of Spruce Mountain's new trail and rehabilitated fire tower. The "unlacing" ceremony took place at the bottom of the fire tower with two hiking shoes cleverly tied together across the first set of stairs. The DEC Region 5 Director, Bob Stegemann, Neil Woodworth of ADK and other involved partners untied the shoelaces to make it official.
The new trail and fire tower rehabilitation were made possible through the hard work and dedication of many partners over many years. The DEC worked closely with Saratoga Preserving Land and Nature (PLAN), Adirondack Mountain Club, Town of Corinth, and countless others, including fire tower organizations. NY's Environmental Protection Fund provided $25,000 for the trail maintenance and fire tower rehabilitation.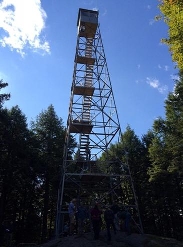 The 73 foot fire tower, built in 1928, was restored with the help of the Student Conservation Association (SCA) Adirondack members and the DEC. Recently, the ADK Professional Trail Crew completed a reroute of the trail from private land onto the Forest Preserve's Wilcox Lake Wild Forest and Saratoga PLAN property.
In accordance with a conservation easement agreement for the private land the trail crosses, the trail is closed to public use during the big game hunting season, which typically takes place from the end of October to the first Monday in December.
The Spruce Mountain trailhead parking area is located at the end of Fire Tower Road in the hamlet of South Corinth.