Chapter Links
Chapter links updated: 2015-03-23
Home Page
Go to Home Page
Outings & Events
Outing Calendar
Outing Reviews
Ratings: Hike & Kayak
Outing Leader Bios
Bear proof containers
Trip Leader Input
Fire Tower challenge

Chapter Information
By-Laws Document
Chapter Chair Report
Committee Contacts
Committee Minutes
Donations, Memberships
Forms & Guidelines
Handbook for Chapter
Meeting Locations
Policies and Resolutions
Departments
Education
Conservation
Young member group
Membership
Join or Renew by mail
Join or Renew online:
List of New Members
Resources
Checklists
Classifieds
Leave No Trace
Rules & Regulations
Weather
Executive Committee
Job details
Member List
Member Optout List
Potluck Signup
Chapter News
Updated: 2015-03-26

March/May Chepontuc Newsletter is Available Online!
View

2015-04-17 7 pm - Old Africa through photos of Bob McDermott and Linda Zila at Saratoga Lib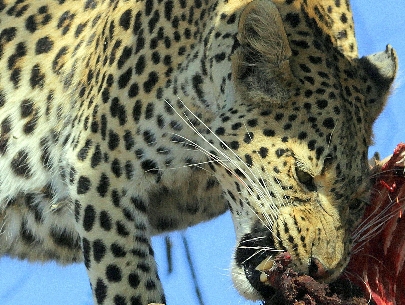 Bob McDermott and his wife Linda Zila traveled through the southern African countries of Botswana, Zambia, Zimbabwe, and South Africa, spending day after day on safari with expert guides, sleeping in tented camps in the wilds of the bush, and hearing the nocturnal roars of lions close-by.
For more information:
Details

ADK Mountain Club needs good participation for Supervised Volunteer Trails Program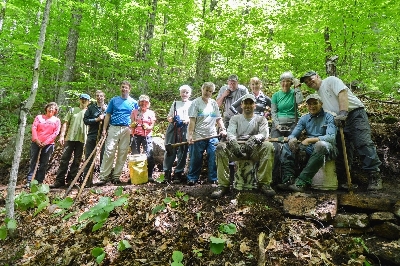 Since 1986, the Adirondack Mountain Club (ADK) has been hosting volunteers to participate in trail projects. In that time, over 10,000 volunteers took part in maintaining the trails of the Adirondack Park. Our volunteer trails program is not just about the trails though, it's also about the people that maintain them. I can say with confidence that all 10,000+ volunteers who participated in ADK's volunteer trails program left with a sense of stewardship for the Adirondacks. They know firsthand how much hard work it takes, and how rewarding it is, to keep our Adirondack trail system in tip-top shape.
It is going to be a tall order to fill all of these projects. For this expansion to be possible in the future we need good participation. Your help would mean 10,000 more great experiences, a more pleasant hiking adventure and the protection of wild areas along trail corridors.
We have several scholarship opportunities available for our High School Volunteer Program. These scholarships would cover the cost of our participation fee. Our newest addition is the ADK Woods Woman Scholarship. This scholarship is available to a high school aged woman who wants to participate in a volunteer trail project.
For more information:
Details

Since 2010 Our Chapter offers the Winter Fire Tower Challenge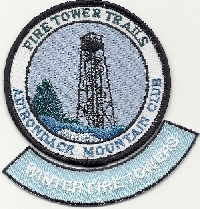 Since 2010 the Glens Fall-Saratoga Chapter of the Adirondack Mountain Club offers a new Fire Tower Challenge: the Winter Fire Tower Challenge. Climb 18 of the Adirondack mountains with fire towers and all five in the Catskills between December 21 and March 21 and you can earn a rocker for your Fire Tower Challenge patch. You can keep track of your climbs on the regular brochure, noting at the top of the form that it's the Winter Challenge.
Please note that like the regular Fire Tower Challenge, it is not necessary to climb the actual towers. In fact, it is inadvisable to climb an icy fire tower. Some trailhead parking areas might not be plowed in winter presenting access challenges. Winter hiking while exciting can be more strenuous especially if the trail has not been previously tracked-out and there are less daylight hours with shorter periods of twilight.
Update: Spruce Mountain - Fire Tower Challenge
Trail access to the Spruce Mountain summit passes through private property owned by Lyme Timber Company in Hanover, NH. Without obtaining permission prior to your hike, the public does not have permission to trespass on Lyme Timber Company land. Because of this access issue, Spruce Mountain is currently not included in the Fire Tower Challenge. Climbs completed prior to January 12, 2015 will count towards the challenge. NYS DEC and Lyme Timber Company have a tentative agreement to open the trail completely for public access (the trail will be closed during big game rifle season). When this agreement is finalized, NYS DEC and ADK (Glen Falls-Saratoga Chapter) will post a notice on their respective websites. At which time, Spruce Mountain will again be included in the Fire Tower Challenge. For more information contact:
Update: Loon Lake Mountain included in the Fire Tower Challenge
Effective November 2, 2011
Loon Lake Mountain
in the northern Adirondacks is included in the Fire Tower Challenge and counts toward the 18 Adirondack fire towers. If you have a brochure that does not list this fire tower, please manually add it to the list along with the date of your climb in order to receive credit for this tower. For more information contact contact:

Your Chapter Needs Some Good Volunteers!
As a way to develop a listing of chapter members that want to help out with the chapter, a volunteer request form has been developed. Please complete the volunteer form indicating your areas of interest and a member of the executive committee will get back to you to discuss the next steps.
The form is located in the Chapter Links under "Chapter Information Forms & Guidelines" or the link:
Volunteer Request Form
Contact Laura Fiske at 518-884-0345 or email
chapterchair@adk-gfs.org

Our Chapter Rents Snowshoes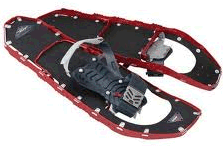 Snowshoes are at ADK Member Services in Lake George. Call 518-668-4447 for reservations and hours. We have two pairs of men's MSR Denali snowshoes, two pairs of women's Tubbs snowshoes and two pairs of children's Tubbs snowshoes.
ADK Members: $10 weekdays, $15 weekends
Non Members: $13 weekdays, $18 weekends

Draft NYS Open Space Plan

The NYS DEC has recently released the Draft NYS Open Space Plan for review and comment. The comment period is closed View document PDF:
Draft Open Source Plan

J. Schneider Report on Pharaoh Lake Wilderness Area to DEC
View

Fill out report if you hiked Pharaoh Lake Wilderness Area
Details

Reminder: Include your email address when renewing membership!
We receive membership information bimonthly and update our membership list with your info! You may renew your ADK membership online by clicking on:
Renew Online!
- Make sure to select "Glens Falls Saratoga" as your chapter!
You may also update your email address at any time, by clicking on the Email Icon.
Additional Links
ADK Links updated: 2015-01-03
ADK.ORG Links
Headquarters Web Site
Action Alerts
News + Press Releases
Guided Trips, Workshops
Shop: Books,Maps,Gear
Conservation
Education
Volunteering
---
Miscellaneous Links

Adirondack Almanack
Adirondack Explorer's Online Journal